From birthdays to the holidays to romantic gestures and everything in between, watches are one of the best choices for gifts.
But what's the right time to do so, and what are the nuances of watch gift-giving?
Why Watches Work as Gifts
The big secret of gift giving is that it's less about the item and more about the individual.
Watches, jerseys, jewellery, roses, books, mugs – they're all classic gifts, but the right gift in the wrong situation can be awkward.
Give roses too early or mugs for an occasion that calls for something more and your recipient can feel awkward.
That said, the best gifts reflect the recipient's personality and preferences.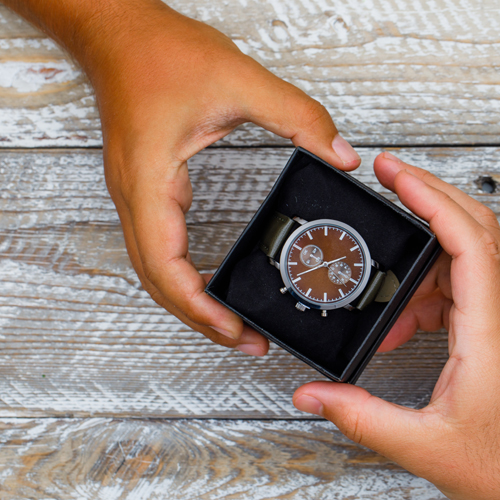 A great romantic union, friendship, or family bond is all about finding the thing you like in the other person and personalizing it, and the same is true of watches.
It isn't "just" that watches are a great mixture of form and function that's both practical and fashionable (though those are big plusses),
but that their variety makes them a good fit for suiting different people's tastes as well as different occasions.
Do they have a need for speed?
A racing watch may be the gift giving green light you're looking for.
Maybe they love the undersea life?
A diver's watch is a great way to make a gift giving splash with them.
Are they high-powered business types or have a passion for fashion?
High fashion and business watches can be a stylish way to show you care.
No matter their personality or pursuits in life, there's almost always a watch to match.
What's more, there's likely to be a watch in a suitable price range. While price doesn't always equal value in gift giving, giving a "cheap" gift for an anniversary can be insulting,
while a hugely expensive watch to someone you've only met twice can feel like it's too much too soon.
Find the right watch within the right price range, however, and it can be a great way to show you care.
Take into account the person's interests and personality before choosing a gift watch for them.
When Do Watches Work as Gifts?
That said, the significance of a watch can vary between person to person.
What's more, while everyone's different and you don't have to conform to norms, there's some evidence to suggest that, on average, men and women view watches as gifts differently.
For example, some women may view watches given as a romantic gesture from a beau as him "giving his time" to her.
By contrast, some men may view watch gift giving in a romantic context as a symbol of union, that they are "sharing time" together.
The same goes for wall clocks, which can likewise serve as reminders of "time together."
On top of that, there are a wide range of different nuanced meanings given to watches as gifts, including:
Commitment: Watches aren't like roses, cakes, or other gifts that are meant to be consumed once and quickly.

Instead, they are something that you may keep for perhaps many years.

Personality: Different watch genres have different connotations.

Fine gold, silver, and diamonds give off a very different vibe than watches boasting casual mesh bands, which are themselves different from sleek black and white minimalism or soft leather bands.

The best gifts aren't merely about getting something for the recipient but showing that you "get" them,

and picking a watch whose style matches their personality is a great way to do just that.

Sentimentality: With smartphones, we don't really need watches to help us tell time anymore.

Even so, many of us keep wearing them, partly as a fashion statement but also because there's a certain sentimental attachment to a watch given as a gift that you wear for years

or even decades that doesn't exist in smartphones, which we regularly replace.

We don't inscribe "Forever yours…" on smartphones, after all.

Besides your engagement or wedding ring, there's every chance the one thing you wear most often may well be your watch – which can be all the more meaningful if it's a gift from someone you love.

Luxury: Sure, rose gold smartphones may be nice, but they still have nothing on the elegant beauty of a luxurious watch.

Even so, luxury watches range in price from several thousand to just under a hundred dollars, making them all the more affordable as bespoke gifts.
A watch can signify various human relationship, from love, to union and commitment. Think carefully about what you want the gift watch to say to the person you are gifting it to.
Which Watches Work Best as Gifts?
Two great examples of watches as gifts for men include:
Filippo Loreti Rome Gold | MEN


This watch is a study in contrasts, its gold casing set against its deep brown leather.

It's both eye catching and minimalist. It doesn't have a ton of bells and whistles, and isn't supposed to.

 it's a watch that's meant for those who value elegance in simplicity.

At just over $400, it's pricy enough to be price-weighted as a significant gift (think anniversaries, life milestones, and so on) without being too expensive.

Timex Waterbury Traditional Chronograph | Women


In contrast to the more formal Filippo Loreti, this option from Timex is more suited to the rigorous hustle and bustle of business life.

The combination of a silver case and dark grey dial along with white hands and hour numerals adds lots of contrast, and the band and casing is quite durable.

What's more, the dials offer extra timekeeping features.

At just over $130, this is a perfect gift for birthdays and casual gift giving.

Two great examples of watches as gifts for women include:

1. Layton Chronograph Bracelet Watch | Women
A good choice for business women on the go, this watch blends form and function in a two-tone gold-and-black design accented by silver
that balances vivacity with understated aesthetic appeal.

The different chronograph dials are great for women who like extra timekeeping features, and it pairs well with business wear as well as more casual night-on-the-town ensembles.

At around $250, this watch is pricy enough to feel like a significant gift without breaking the bank.

2. La D de Dior Diamond Bracelet Watch | Women
This is a watch as jewelled finery at its finest.

The watch and bracelet are encrusted with diamonds and pink mother-of-pearl, making it incredibly flamboyant without appearing gaudy.

It's an absolutely eye-catching watch, as is its nearly $5,000 price, so this is a watch best saved for major life events like wedding proposals and major anniversaries.

When given to the right person at the right time in the right way, a great timepiece can prove to be a truly timeless gift.