Tufina's history has many twists, turns, and countries, beginning in Albania in 1828, with a Tufina family member designing the clock mechanism for the Tirana Clock Tower.
By the late 1800s and early 1900s, the Tufina family had expanded their brand to Italy, Austria, and across Southern Europe.
Like so many, the Tufina family saw dark times in the 1940s, with the family facing persecution from the region's dictators.
Even so, they bounced back and their brand today extends from Chicago to Munich to China.
Turfina watches has a rich and long history stretching back to the 19th century
The two flagship models of the Tufina brand are its Theorema and Pionier lines.
However, both of these categories are quite broad with a lot of variation in each.
I.e. different models
Among the most popular Theorema models are:
Casablanca
Zürich Tourbillon
Toronto
Madrid
Sao Paulo
Paris
Damascus
Galileo
Among the most popular Pionier models are:
Chicago
New York
Amsterdam
Florida
London
Tirona
Miami
One of the most interesting things about the Tufina brand is that they seem to hit a remarkable sweet spot between higher-level and more casual watches.
They are far more finely crafted and costly to rank with the latter category, but are by no means as expensive or feature the jewel-encrusted style of the most sought-after luxury watches.
Even so, their middle of the road nature gives them a rare degree of broad accessibility and thus appeal.
An interesting example of that is the company's approach to women's watches – namely, not to offer them but encourage women to buy "men's" watches as though there is no difference.
One argument Tufina makes is that larger, bolder watches for women are in fashion.
It's an interesting and potentially progressive move, and there is some support for that among watch and fashion lovers.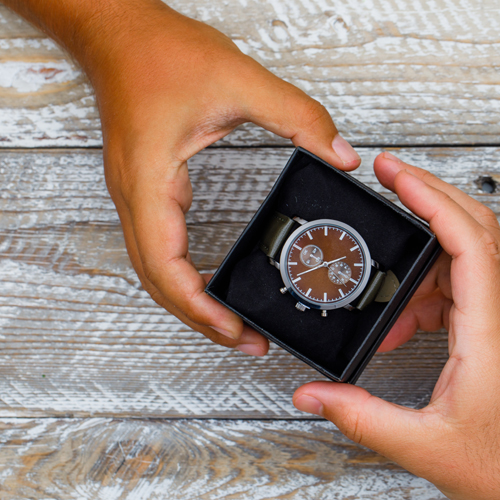 The best place to buy Tufina watches is through their online storefront.
They are sometimes available on Amazon or other online watch sellers, but unlike Bulova and other larger sellers, their place there is more intermittent.
Tufina watches strike a balance between advanced technology and casual elegance. They can be bought directly from their website, or occasionally on Amazon.
In general, the Theorema brand tends to be characterized by highly intricate watch face designs that show off a series of gears and dials, with the casing itself being silver or gold.
The dials in particular are especially gorgeous, featuring deep blue sapphire and, in cases like the Sao Paulo, artistic renderings of the sun and moon, among other things.
These models tend to have metallic bands and are designed with more formal and business settings in mind.
The Pionier models, by contrast, tend to be a bit more casual and made with the idea of everyday and even sportswear in mind.
Instead of the metallic bands and bigger design of the Theorema models, these pair leather bands with slimmer cases.
This makes it easier to pair these watches with something other than formal wear.
Both the Theorema and Pionier tend to be waterproof, though the exact depths to which they are cleared for use is actually harder to determine.
The same holds true with the exact type of mechanism powering its movement.
That said, some models blend the line between these distinctions.
For example, the Theorema Casablanca pairs a large, gear-showing watch face with a leather strap.
The Theorema model tends to be more intricate and feature-packed, while models like the Pionier are more casual and less elaborate
One of the most interesting questions with Tufina is actually where they're made.
Tufina styles many of their watches as being made in Germany, while others report that they're actually made in China.
There's a lot of conflicting evidence on this (sometimes within the same statement), so if you're dead set on getting a "German" watch, you may want to do your own research and proceed with caution.
Wherever they come from, however, Trustpilot reviews are generally kind to Tufina.
Reviewers have typically found the watches well-made and elegant, with several liking the larger size and seeing them as "statement watches."
The main criticisms seem to be over the aforementioned manufacturing question and of the company's customer service.
Truspilot reviews of the Turfina watches are generally good.
Tufina has certainly carved out an interesting niche for itself online.
On the one hand, there are definite questions about where the watches are made and what their exact capabilities are, and that lack of concrete answers can prove maddening for watch aficionados.
On the other hand, there's no denying these are elegant and generally sturdy watches, and far more affordable at a few hundred dollars each than pricier luxury and "statement" watches out there.
If you're looking for a watch brand with an interesting history, affordable price point, and innovative designs, Tufina's Theorema and Pionier lines are definitely ones to check out.